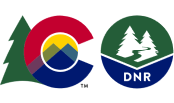 As the Colorado legislative bill signing season comes to a close, the Colorado Department of Natural Resources celebrated the significant legislative and nation leading policy accomplishments passed by the 2021 Colorado legislature.  
"Coloradans love and value our mountains, open spaces, rivers and recreation areas. We are greatly thankful for our legislative champions and Governor Polis for passing and then signing historic legislation which will protect our wildlife, help us prepare for future wildfires and improve forest health, provide new resources to maintain outdoor recreation areas and state parks, support search and rescue efforts and our avalanche information outreach, protect our watersheds and increase access to the outdoors for more Coloradans for generations to come, said Dan Gibbs, Executive Director, Colorado Department of Natural Resources. "It was truly a historic legislative session for the Department and positions Colorado as a leader in the nation on a variety of policies from forest mitigation to creating an Outdoor Equity Grant Program. We are excited to move forward on the initiatives and key investments and bi-partisan priorities passed by the General Assembly."
Highlights Include: 
Keep Colorado Wild Pass Initiative (SB21-249): 
Senate Bill 21-249

directs Colorado Parks and Wildlife to create an optional, lower-cost

Keep Colorado Wild Annual Pass

to increase Coloradans' access to our state parks. The new pass will be available when Coloradans register their passenger vehicles, light trucks, motorcycles and recreational vehicles starting as early as 2023. 
Create Outdoor Equity Grant Program (HB21-1318)
HB21-1318 establishes the Outdoor Equity Board in Colorado Parks and Wildlife to increase access and opportunity for underserved youth and their families to experience Colorado's open spaces, state parks and outdoor areas. 
Colorado State Parks Capital Improvements Stimulus (SB21-112)
SB21-112 provides $20 million to 12 state parks across the state for access and capital improvements to address increased usage. This legislation will help direct funds to outdoor projects in Colorado that protect irreplaceable public lands and expand outdoor recreation opportunities in the state. 
Colorado State Parks and Public Lands Colorado Comeback Stimulus (HB21-1326)
Serving as bridge funding until the critical sustainable funding from the Keep Colorado Wild Pass and Outdoor Equity Fund Bill is available, this bill invests $25 million in federal funds to support key parks and wildlife needs. The bill provides:
$14.5 million for new state park infrastructure and development projects.

$3.5 million for state park staffing and maintenance needs. 

$3.5 million to the Division of Parks and Wildlife to implement its statewide wildlife action plan and the conservation of native species;

$750,000 to the Colorado Avalanche Information Center to support backcountry avalanche safety programs;

$2.25 million to the search and rescue fund for use by the Department of Local Affairs in consultation with Colorado Parks and Wildlife to support backcountry search and rescue efforts;

$1 million to the outdoor equity fund for use by Colorado Parks and Wildlife to implement the outdoor equity grant program;



Wildfire Recovery and Prevention for our Lands and Waters:  

Last year's record breaking wildfire season was not an anomaly, but a harbinger of an increasingly normal confluence of conditions. This session, major investments totaling $88 million, were allocated for wildfire recovery efforts on our lands and waters. These include: 
Colorado Water Plan Stimulus
Other Notable Policy Achievements
To read more about these bills and accomplishments in depth see: Colorado Scores Historic Wins for Public Lands and the Outdoors 2021 Legislative Accomplishments