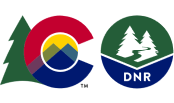 The Colorado Department of Natural Resources is seeking qualified candidates for the position of Director to manage and lead its Colorado Parks and Wildlife Division. Consider joining the dedicated people of the Colorado Department of Natural Resources. It's our mission to manage and conserve Colorado's natural resources for the benefit of people today – and tomorrow. That means we have to balance development with conservation so the state we all love provides similar amazing recreational and conservation opportunities for our children and their children.
This executive level non-classified position is the head of the division and has general supervisory control of and authority over all activities, functions, and employees of the division. The Director plans, organizes, directs and manages the operations of Colorado Parks and Wildlife to achieve the agency mission to perpetuate the wildlife resources of the state, to provide a quality state parks system, and to provide enjoyable and sustainable outdoor recreation opportunities that educate and inspire current and future generations to serve as active stewards of Colorado's natural resources.
Applications are being accepted online through GovernmentJobs.com. The application window closes on January 18, 2023. Applications will be considered from both residents of Colorado and non-residents. The State of Colorado believes that equity, diversity, and inclusion drive our success, and candidates from all identities, backgrounds, and abilities are encouraged to apply.
CPW is an enterprise agency, relying primarily on license sales, state parks fees and registration fees to support its operations, including: 43 state parks and more than 350 wildlife areas covering approximately 900,000 acres, management of fishing and hunting, wildlife watching, camping, motorized and non-motorized trails, boating and outdoor education. CPW's work contributes approximately $6 billion in total economic impact annually throughout Colorado.
###