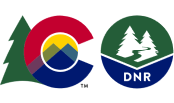 The Colorado Strategic Wildfire Action program awarded Colorado Parks and Wildfire a grant for 4 weeks of wildfire mitigation work performed by the Department of Corrections SWIFT crews. This project is located in the Vail Deer Underpass State Wildlife Area (SWA) adjacent to the I-70 corridor and the westernmost neighborhood in Vail.

The project protects prime wildlife habitat, in addition to the Gore Creek watershed which is the main tributary to the upper Eagle River watershed that many down valley communities rely on. Adjacent to the SWA is also railroad, power and wastewater infrastructure. COSWAP is focused on funding projects that protect lives, property and infrastructure, all of which are protected by this project.

The DOC-SWIFT crews spent 4 weeks establishing a mosaic pattern within the SWA by cutting and piling spruce beetle kill and aspen trees. According to CPW, the crews were well organized and led. The crew was independent and after initial briefing was able to complete work autonomously. This project added to the defensible space adjacent to the Town of Vail by reducing potential fire intensity, and the project requires minor continued maintenance. Given the topography of the project area and the alignment of this topography with residential areas, and water, electrical and highway infrastructure, it provides significant value to the community.

District Wildlife Biologist Devin Duval, shared: "For the past several years CPW and the Town of Vail Wildland Fire Program have partnered to help implement fuel treatments in the West Vail area.  Most recently in 2022, COSWAP and the use of DOC-SWIFT crews have been instrumental in helping CPW and the Town of Vail achieve both wildfire mitigation and habitat enhancement goals. The specific site, known as the Vail Deer Underpass State Wildlife Area, functions as a critical movement corridor for mule deer and elk, but also exists within the Wildland Urban Interface. As such, close interagency collaboration and public partnerships are increasingly important in order to implement projects, ensure communities are protected and improve wildlife habitat." 

CPW and Vail Fire Department plan on burning the piles within the seven acre project boundary this winter. The collaborative efforts between state, local and county governments is an example of how to efficiently and effectively reduce wildfire risk in Colorado and support fire adapted communities.