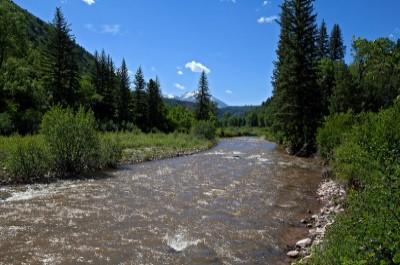 February 22, 2023
DENVER -The Colorado Department of Natural Resources and the Colorado Water Conservation Board (CWCB)  announced the creation and appointment of members to a water conservation focused Urban Landscape Conservation Task Force. Over the next year, the Task Force will work to identify practical ways to advance outdoor water conservation through state policy and local initiatives, to meet the pressing challenges of urban water conservation in Colorado.
The Task Force arose out of the Governor's initiatives announced during his 2023 State of the State highlighting the need to prioritize the intersections of climate change, water and housing. The Task Force is also informed by the newly finalized Colorado Water Plan calls for "Transformative Landscape Change"—understanding the need to start building the landscapes of tomorrow, today and more closely aligning land use plans, water use, and water conservation.
"Rather than just pointing to other states' methods, the Urban Landscape Conservation Task Force will strive to find solutions that work in our state's unique environment," said Dan Gibbs, Executive Director of the Colorado Department of Natural Resources. "The Task Force will focus on actionable recommendations like setting standards for turf-alternative 'Colorado Scaping,' gallons-per-square-foot water budgets, as well as evaluating land use development, water affordability, and much more." 
Sustained outdoor water savings are often difficult to realize. These goals require water providers and other groups working together in ways that extend beyond turf removal and work to advance landscape transformation in ways that provide lasting water savings.
"There's not one single solution to urban water conservation success in Colorado," said Becky Mitchell, CWCB Director. "It will require a cumulative effort, everyone doing a little bit—so I'm happy to have such a robust team of experts on this Task Force including water providers, urban planning experts, land use experts, developers and more, from all across the state." 
The 21-member task force is now set, consisting of 8 water utilities, 2 water conservation districts, 2 environmental non-governmental organization representatives, and several single seats. Additional Task Force consultation may also include coordination with specialists like: affordable housing professionals, water rate experts, arborists, transportation specialists or other groups as determined by the Task Force. The team will aim to meet 4 times over the next year, wrapping up in January 2024.
Members of the Task Force include:
| SEAT | NAME | AFFILIATION |
| --- | --- | --- |
| 1.Water Provider (Front Range) | Greg Fisher | Denver Water |
| 2.Water Provider (Front Range) | Catherine Moravec | Colorado Springs Utilities |
| 3.Water Provider (Front Range) | Tim York | Aurora Water |
| 4.Water Provider (Front Range) | Rick Schultz | Castle Rock |
| 5.Water Provider (Front Range) | Mariel Miller | Fort Collins |
| 6.Water Provider (Front Range) | Drew Beckwith | City of Westminster |
| 7.Water Provider (West Slope) | Andrea Lopez | Ute Water - Grand Junction  |
| 8.Water Provider (West Slope) | Jarrod Biggs | Durango Water |
| 9. Resort Community Representative | Torie Jarvis | NWCCOG |
| 10.Water Authority  | Lisa Darling | South Metro Water Supply Authority |
| 11.Conservation District (West Slope) | Amy Moyer | Colorado River District |
| 12.Conservancy District (East Slope) | Frank Kinder | Northern Water |
| 13.Special District  | Paige McFarland | Centennial Water & Sanitation District |
| 14.Nonprofit Organization | Laura Belanger | Western Resource Advocates |
| 15.Nonprofit Organization | Kate Larson | Resource Central |
| 16.Stormwater & Flood Organization | Bao Chongtoua | Mile High Flood District |
| 17. Land Use Planning Expert | Waverly Klaw | Sonoran Institute |
| 18.Urban Planning Expert | Austin Troy | UC Denver |
| 19. Developer | Patrick McMeekin | Hartford Homes |
| 20. Community Expert | Cinceré Eades | Denver Parks & Rec |
| 21. Landscape Industry Professional | John McMahon | ALCC |